Polaris Slingshot Launch
How do you launch a brand-new machine that looks like it was stolen from a super-hero?
Well first, drive it for yourself and realize this beast is much more than wild looks— it's an on-road experience unlike anything out there. Then, package up that life-shortening, throttle-ravaging rush into a brand that recreates that experience in everything it does. The resulting campaign puts the consumer right in the rush of wind and asphalt through the juxtaposition of raw user reactions and sexy, energetic performance.
It's also worth noting that this was the first-ever 100% digital campaign in Polaris history, allowing us to engage every consumer in a way as stimulating as the ride itself.
The launch was a knockout success and exceeded even the most optimistic goals, generating 500 million press impressions in the first day, drawing well over a million video views on YouTube, and most importantly, selling more Slingshots than Polaris could produce for a year.
Copywriter: Vince Van Bael
Director:
Tim Damon
(Bandito Brothers)
---
Launch Video

As the point piece of communication, this video's sole purpose is to reveal the Slingshot experience as a mind-blowing, heart-pounding rush that would change the way you view the road. Raw, unfiltered user reactions blend with frantic cockpit visuals and vertigo-triggering performance footage, leaving consumers with a thirst for the real thing.
---
User Reaction Vignettes

To further bring Slingshot's unique exhilaration to life, we captured the raw, unfiltered reactions of real consumers on their first rides in the machine.
Here are a few of my favorites.
---
"The Ride" Video

So the machine is really fun to ride in. Got it. But the gear head in each of us can't help but want to know how it works. And a machine like this deserves much more than the typical, boring automotive product video. True to the brand, we crafted a video that informs as much as it entertains. Infotainment, one could say.
---
PolarisSlingshot.com

As the main point of entry to the brand, the digital experience had to be as engaging as the ride itself. This media-rich scrolling site uses progressive content disclosure to gradually draw the user through the world of Slingshot, and finally, to purchase.

---
The Slingshot 360 App

There's still that one, stand-by component that every dealer demands and every consumer wants to take home: the brochure. But you can't communicate the Slingshot experience on the printed page. So we created premium cards that work as triggers for the
Slingshot 360 app
, an Augmented Reality experience that let's users take a virtual tour and learn all about what sets Slingshot apart.
App Development:
Bully Entertainment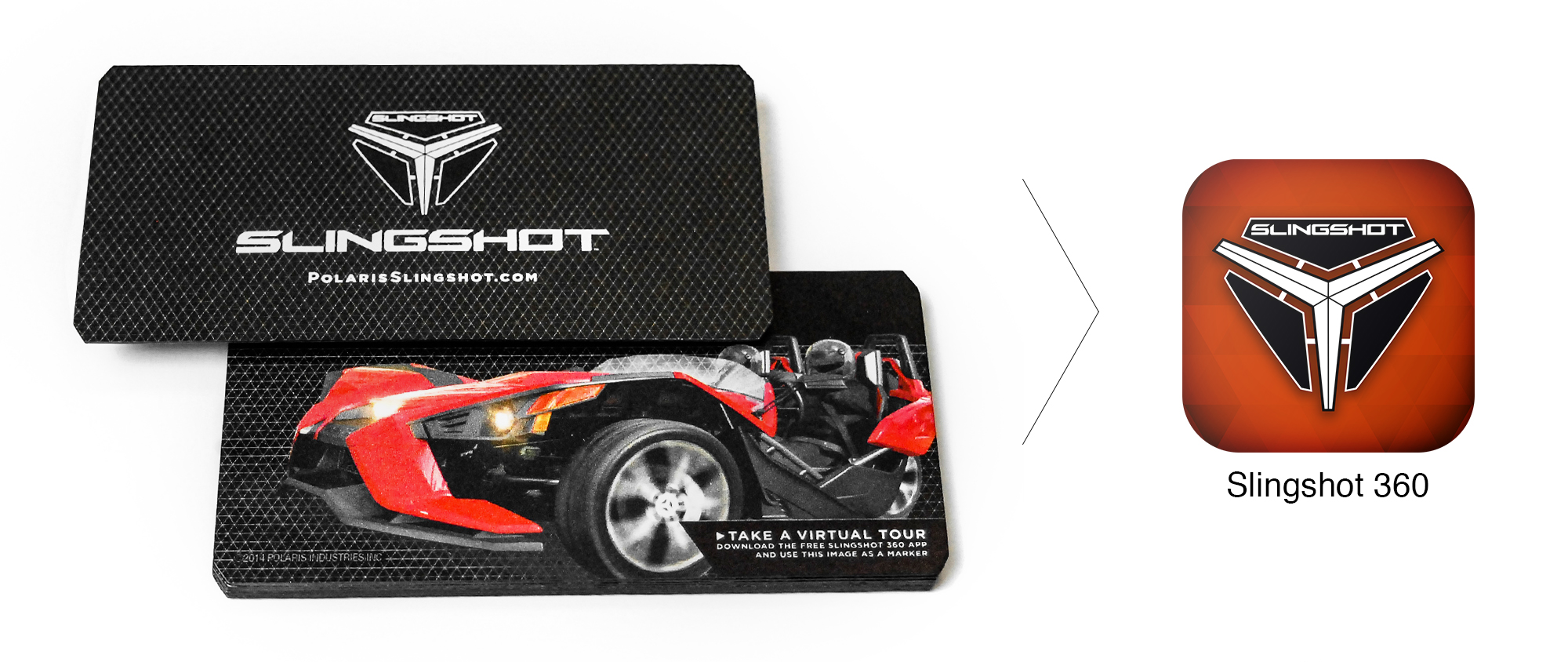 ---
The Slingshot Italic Font
When you can't hear riders' enthusiastic reactions, we needed a font that could carry the same visual weight.
After drafting the design, I hired the renown Czech typographers at
Suitcase Type Foundry
to craft the font.
---
Slingshot Icon Library
Part of an extensive brand guidelines, these icons were crafted from the machine's DNA as navigation elements for the campaign's various digital executions.